Negotiation Team Bios - Marietta

Zach Budden
Hello! My name is Zach Budden and I am pleased to meet you. As the senior manager of the Labor Relations team for Marietta, Meridian and Clarksburg, I have the responsibility of serving as the chief spokesperson of Lockheed Martin's 2018 negotiating committee for those sites. Prior to joining the Marietta team, I was fortunate to lead Lockheed Martin's international labor and employee relations activities. Did you know that Lockheed Martin has union represented employees in six countries outside of the United States?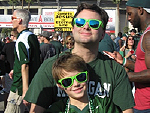 I am excited to shatter silos and engage in a collaborative partnership with the IAM and Lockheed Martin during the 2018 negotiations process. By doing so, I am confident we can develop a fair agreement that builds on our long history and competitively positions Marietta to perform, win and grow into the future.
Before joining Lockheed Martin in 2014, I lived and worked in Chicago, Illinois, as well as Michigan, Indiana and Wisconsin where I worked with labor unions in the automobile industry and in the legal field. If you ask, I am happy to tell you all about Chicago and Michigan State University! I have one child, who is growing up to follow Michigan State, just like his dad. When we are not watching our favorite teams win, we enjoy fishing and hunting in northern Michigan and occasionally hiking to the tops of mountains. Go Green! Go White!
---
Dale Kelly


Hi! I'm Dale Kelly, the director of Labor Relations for Lockheed Martin Aeronautics. I'm supporting the 2018 IAM labor contract covering employees in Marietta, Palmdale, Clarksburg and Meridian. My first negotiations experience took place in 1990 and I've enjoyed the negotiations process ever since! I'm honored to represent Lockheed Martin and look forward to working with the IAM in developing a fair, competitive agreement that positions the business in a positive way for the future.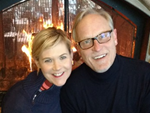 For a little bit about me, I'm married to a human resources guy. We love the outdoors, college basketball, chicken wings and Bruce Springsteen. We have a blended family with three wonderful kids, three grandchildren (all very handsome boys) and have plans to adopt a Portuguese Water Dog puppy in 2018. My faith, my family and my friends bring joy and meaning to my life.


---

Charis Lee
Hello! My name is Charis Lee and I am a labor relations representative in Marietta, Georgia. As a member of the 2018 negotiations team, my role is to scribe the economic and local non-economic negotiations. I am very excited to participate and I look forward to helping secure an agreement that will benefit the business for years to come.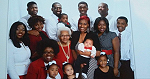 Before joining Lockheed Martin, I served as a human resources professional in the U.S. Army National Guard and at Macy's. I earned a Juris Doctor with Cum Laude honors from Thurgood Marshall School of Law in Houston, Texas.
I have a pretty large family with five siblings, five nephews and three nieces. I love to spend time with them when I can. My youngest brother Jonathan and I both live in Georgia; however, I live in Atlanta and he lives on another continent! I love sports and on any given day you will hear me cheering on my alma mater, Michigan State. GO GREEN!
Rene Letourneau


Hi, I'm Rene Letourneau, Senior Manager of Plant Engineering. I was blessed to begin my career at Lockheed Georgia as an apprentice in the Special Machines Group after I completed my tour in the United States Coast Guard. Working for Lockheed Martin, I consider myself fortunate to support the war fighter and I am extremely proud that our company supports the freedoms we enjoy as Americans! Most of the men in our family have served our country as my dad retired from the Air Force and my two sons were in the Marine Corps. I am looking forward to work with our union partners to negotiate a fair contract for everyone.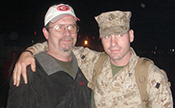 I have a blended family and enjoy spending time together. I have four children and 10 grandchildren! I enjoy fishing, hunting, traveling and listening to music, especially Garth and the Boss. I don't like Saints, Cowboys and Steelers!
---

Khalilah Licorish
Hi! My name is Khalilah Licorish. I am the team lead for Labor Relations in Marietta, Georgia, and I am a member of the negotiating committee for the 2018 IAM labor contract negotiations covering employees in Marietta, Georgia; Clarksburg, West Virginia; and Meridian, Minnesota. I look forward to partnering with the IAM negotiating committee to improve our contracts that position Lockheed Martin in a positive and competitive way for the future. I joined the Marietta Labor Relations team in September 2015 relocating from Hyattsville, Maryland with my husband and daughter. Prior to that, I served as a labor relations consultant for the Washington Metropolitan Area Transit Authority in Washington D.C. I am also a former attorney and member of the Maryland State Bar Association. My family and I really enjoy living in the Atlanta metropolitan area and spend our free time taking road trips and enjoying the hiking trails.
---

Jay Malone
Hi! I'm Jay Malone, a labor relations representative in Marietta, Georgia. I support current negotiations as the logistics lead. I am very excited about the prospect of reaching a fair, competitive agreement that positions the business to thrive and continue to meet our commitment – deliver unrivaled capabilities to the men and women of the U.S. military.

Before joining Lockheed Martin this summer, I spent time as a labor and employment attorney in Birmingham, Alabama. Earlier this year, I got engaged to my fiancé, Brittany, to be married in December 2018. We truly are best friends and are always looking for an adventure together. For fun, I enjoy playing golf, basketball, flag football, canoeing and traveling. As an Alabama native and University of Alabama graduate, I am a huge supporter of the Alabama Crimson Tide. Roll Tide Roll!
---
Jeff Roberson
Hi! My name is Jeff Roberson, Sr. Manager of Fabrication at the Marietta site and I'm excited to be a member of the company's 2018 negotiating committee. I have been part of the Lockheed Martin family for more than 38 years. My current responsibilities include leading business practices and processes within Marietta Fabrication Production Operations, which includes Mock-Up, Electrical harness and module fabrication, Quick-Turn manufacturing and Tool Make operations. I began my career here at the Marietta site, and have had the opportunity, during my tenure, to work on multiple platforms at Lockheed Martin facilities in West Virginia, Maryland, Florida and California.
I was born here in Marietta, Georgia. My wife and I have a family of six children and five grandchildren (two more are on the way!). We love our pets, enjoy traveling and many outside activities that include fishing and vegetable gardening. We especially like to spend time on lake Weiss and making short trips to the mountains or the beach.